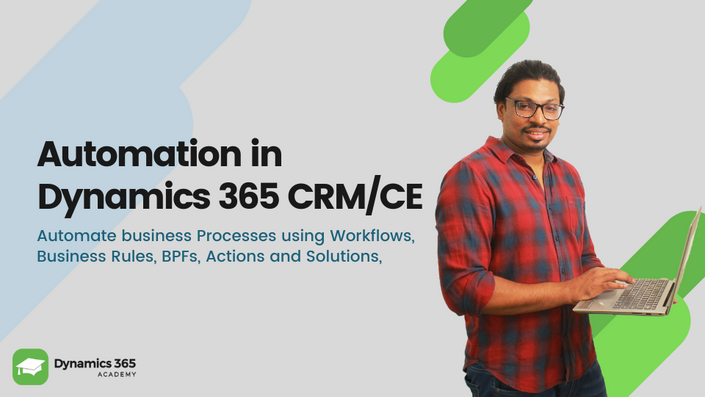 Automation in Microsoft Dynamics 365 CRM (Part 3)
Automate business processes using Workflows, Business Process Flows, Business Rules, Actions and Solutions.
Watch Promo
Enroll in Course
AUTOMATION IN MICROSOFT DYNAMICS 365 CUSTOMER ENGAGEMENT
This Dynamics 365 training course is focused on implementing automation in Dynamics 365 Customer Engagement (CRM) application.
Automation is an important part of Dynamics 365 applications. Using UI based automation features in Dynamics 365 CRM, developers can automate many of the business processes.
This is the 3rd course in the Dynamics 365 CRM + PowerApps developer course series. From this course you will learn Dynamics 365 CRM automation techniques.
IMPORTANCE OF AUTOMATION IN DYNAMICS 365 CRM?
As part of the OOB customisation process, developers can automate business processes and repetitive tasks. Dynamics 365 CRM application provides many UI tools to implement automation such as workflows, business process flows and actions. These UI tools for designers are known as Processes.
In this Dynamics 365 tutorial we are discussing processes in detail and this course would be your guide in implementing automation in the application.
You will start the course by learning the basics of automation in Dynamics 365 CRM, need for automation, the tools used for automation, features and how to implement each of them.
WHAT IS AUTOMATION
Automation in Dynamics 365 CE involves automating repetitive tasks and complex business processes to reduce manual intervention so that business users can focus more on core business activities.
Developers and business users can implement automation using Out of the Box (OOB) tools such workflows, dialogs, business processes and actions.
WHAT YOU WILL LEARN FROM THIS COURSE
This Dynamics 365 automation training course will walk you through everything you need to know about automation start to end including workflows, dialogs, BPFs and actions.
By the end of this course you will have become clear about automation features in Dynamics 365 CRM application and as a developer, how you can make use of them at your work.
Automation Basics in Dynamics 365 CRM
What is Processes and process types
Working with Workflows
Understanding Synchronous Vs Asynchronous workflows
Creating Business Process Flows(BPFs)
Custom events using Actions
Creating Solutions
Export and import solutions
WHO SHOULD ATTEND THIS COURSE
This Dynamics 365 training course is for developers and administrators who want to become experts in automation features.
Programmers
CRM Administrators
Business analysts
students
Business owners
JOB OPPORTUNITIES FOR DYNAMICS 365 CE AND POWERAPPS DEVELOPERS
Dynamics 365 provides an amazing job opportunity. There is a need for more developers in the market than functional consultants and administrators. 1:5 Ratio of functional Consultant to developers
Average Salary $80,000 to $120,000 per annum for experienced 5-10 years developer.
Attending this Dynamics 365 CRM developer training course will make you eligible for Dynamics 365 developer positions.
COURSE CONTENTS
This Microsoft CRM developer training course includes 7 sessions and 50+ chapters. The following are the sessions included in the Dynamics 365 CE automation course.
Section 1 - Course Overview
Section 2 – Understanding Processes
Section 3 – Implementing Workflows
Section 4 – Implementing Business Rules
Section 5 - Business Process Flows
Section 6 – Building Actions using Actions
Section 7 – Solution Management
PREREQUISITES TO ATTEND THIS COURSE
Anyone can start on this course but we would recommend you to have the following knowledge before starting this course.
Basic knowledge on Dynamics 365 CRM customization
Understanding of basics OOB features
Highly recommend: Dynamics 365 CRM + PowerApps developer Course Part 1 and Part 2.
Course Curriculum
Section 1 - Course Overview
Available in days
days after you enroll
Section 2 - Automation in Dynamics 365 CE
Available in days
days after you enroll
DETAILED COURSE CONTENT
The detailed contents of Dynamics 365 CRM automation training course is given below.
Section 1 - Course Overview
1.1 Course Overview
1.2 What you will learn
1.3 Target Audience
1.4 Course Prerequisite
1.5 Course Outline
1.6 About the trainer
Section 2 - Automation in Dynamics 365 CE
2.1 What is Automation
2.2 Understanding Processes
2.3 Types of processes
2.4 Familiarize with Processes
2.5 Summary
Section 3 - Implementing Workflows

3.1 Workflow Basics
3.2 Workflow Properties
3.3 Workflow Elements
3.4 Workflows Vs Plugins
3.5 Types of Workflows
3.6 Asynchronous Workflows
3.7 Creating Asynchronous Workflows
3.8 Trigger and Test the workflow
3.9 Synchronous Workflows
3.10 Creating a Synchronous Workflows
3.11 On-demand workflows
3.12 Child Workflows
3.13 Check the status of Workflows
3.14 Things to consider
3.15 Session Summary
Section 4 - Implementing Business Rules
4.1 Understanding Business Rules
4.2 Accessing Business Rules
4.3 Components of Business Rules
4.4 Scope of Business Rules
4.5 Working With Business Rules
4.6 Understanding Recommendations
4.7 Creating Business Rules
4.8 Practice - Creating Business Rules
4.9 Limitations of Business Rules
4.10 Section Summary
Section 5 - Business Process Flows
5.1 Understanding Business Process Flows
5.2 Enable BPFs
5.3 BPF Components
5.4 Working with BPFs
5.5 Customizing BPFs
5.6 Configuring BPFs
5.7 Creating new BPFs
5.8 Branching in BPFs
5.9 Role Driven BPFs
5.10 Limitations of BPFs
5.11 Section Summary
Section 6 - Creating Custom Actions using Actions
6.1 Understanding Actions
6.2 Components of Actions
6.3 Global Actions
6.4 Creating Actions
6.5 Calling Actions
6.6 Practice - Creating a New Action
6.7 Practice - Triggering a new Action
6.8 Calling Actions from Workflows and Dialogs
6.9 Actions with Plugins
6.10 Actions with JavaScript
6.11 Section Summary
Section 7 - Solution Management
7.1 Understanding Solutions
7.2 Solution Compatibility Matrix
7.3 Solution Components
7.4 Working With Solutions
7.5 Types of Solutions
7.6 Creating New Solutions
7.7 Adding Solution Components
7.8 Solution Publisher
7.9 How Solutions are applied
7.10 Exporting Solutions
7.11 Exported Solution Files
7.12 Importing Solutions
7.13 Summary
Your Instructor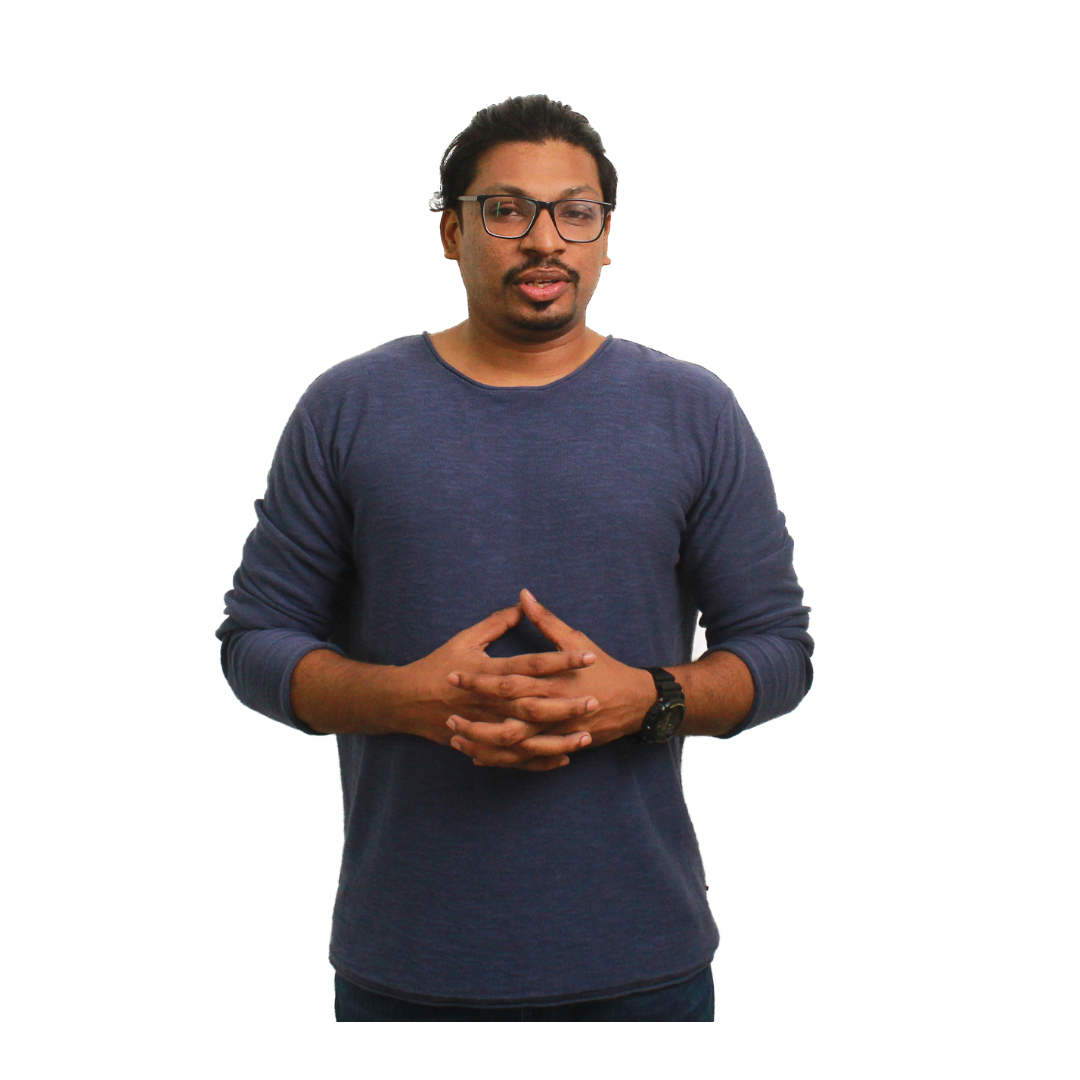 Firoz Muhammed is a Dynamics 365/PowerApps Coach, Architect and and corporate trainer (MCT). He has more than 12 years of experience in the IT industry into consulting, implementation and corporate training.
He carries experience on technologies like C++, C#.Net and Microsoft Dynamics 365 CE, Power Platform. As part of his career he worked for companies such as HP, Capgemini, Wipro, Qatar Airways and Accenture.
Presently he is working as a Dynamics 365 CE architect at Magnifez Technologies and also handle corporate training assignments on Dynamics 365, PowerApps, Power Automate and related technologies.

He has trained more than 1200 professionals on Dynamics 365 CE/CRM as part of his corporate training stint. He trained professionals from corporate companies such as IBM, Sony, Adobe, UST Global, Capgemini and many more.

He got his Dynamics 365 courses published on Udemy and D365 Academy. He likes to explore new technologies and like to share his knowledge through his coaching programs and video courses.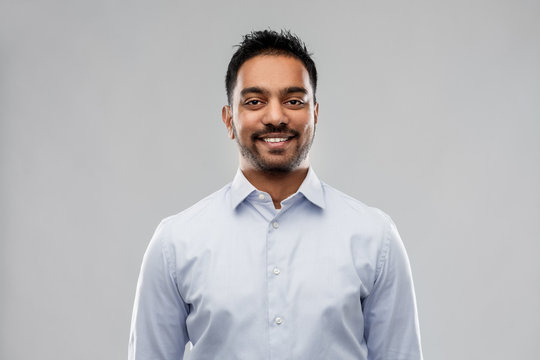 "Have enrolled into this course on Automation in Dynamics 365 CRM. Really enjoyed the content, and would recommend this course to all Dynamics 365 Developers"
- Rafeeq Ahmed, Dynamics 365 Consultant, Australia.
Frequently Asked Questions
When does the course start and finish?
The course starts now and never ends! It is a completely self-paced online course - you decide when you start and when you finish.
How long do I have access to the course?
How does lifetime access sound? After enrolling, you have unlimited access to this course for as long as you like - across any and all devices you own.
What if I am unhappy with the course?
We would never want you to be unhappy! If you are unsatisfied with your purchase, contact us in the first 30 days and we will give you a full refund.